In today's ever changing and competitive business world, the lifeblood of all successful companies is information. The need for timely and accurate information has fueled the growth of new technologies and the convergance of voice, data, video and other digitized information onto the network. These new bandwidth hungry applications and converging technologies are driving the need for more robust, well documented and well maintained information transportation infrastructures.
For most IT staffs, some of the biggest obstacles to providing quality service to clients are poorly designed, inaccurately documented and improperly maintained cabling infrastructures. These problems can cause large amounts of downtime by making it difficult, if not impossible, to troubleshoot physical layer network or distribution problems.
Performance Link Technologies, Inc. specializes in the design, installation, and maintenance of state of the art information transport system (ITS) infrastructures. Performance Link's project managers and design engineers are certified by some of the industry's leading manufacturers and professional organizations. Performance Link takes great pride in our industry knowledge, customer service, installation practices, and cost effectiveness. Our team of professionals can be a key to our clients' success by providing them with a top quality, efficient, reliable and economical network infrastructure.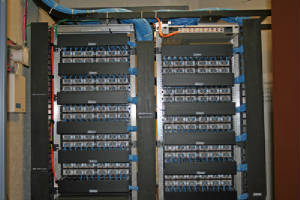 Recent News:
Performance Link Technologies, Inc launches updated website